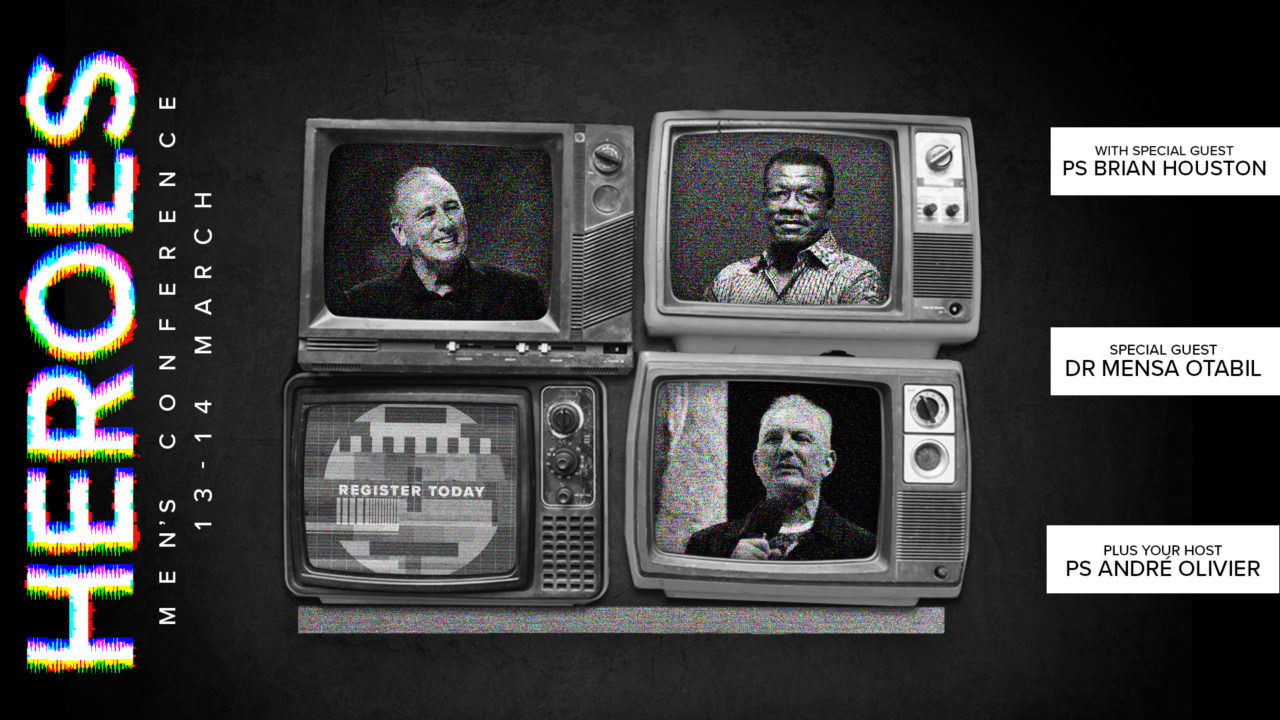 Rivers Church Sandton
Date: 13 - 14 March 2020
Price: R500 Normal Rate

Heroes Men's Conference is a time where like-minded men rally together under one roof to be inspired and equipped! It is an opportunity for them to grow and become the men God wants them to be.
Every year Ps André, the visionary behind the Heroes Men's Conference, invites outstanding communicators from across the world, to bring us a word from God that will impact and inspire. In 2020, we have confirmed speakers Ps Brian Houston, global Senior Pastor of Hillsong and Dr Mensa Otabil all the way from Ghana. Along with our own Ps. André, they will no doubt add something valuable and dynamic to our lives.
Guest Speakers
Ps Brian Houston, Australia
Brian Houston is the Global Senior Pastor of Hillsong Church, a global family of congregations comprising more than 100,000 weekly attendees. Considered by many as a leading voice in the shaping of contemporary leadership values and church culture; Brian is highly regarded for his bold innovation and passion for the local church.
Pastor Brian's infectious love for people and his empowering brand of leadership is beamed to millions of people weekly through his program, Brian Houston @ Hillsong Television, and draws tens of thousands annually to Hillsong Conference in Sydney, London and New York City.  He is also the President of Hillsong International Leadership College and the Executive Producer of countless gold and platinum albums that have come from the Hillsong Worship team.
Dr Mensa Otabil, Ghana
Dr. Mensa Otabil is a respected theologian, philanthropist, pastor, educator, entrepreneur, and a motivational speaker. He founded and oversees the multi-faceted network of ministries of the International Central Gospel Church worldwide, with its headquarters in Accra, Ghana. He also serves as the senior pastor of Christ Temple, with a congregation in the tens of thousands, and his passion is to see the timeless principles of the Bible made applicable to the renewal and transformation of Africa. Dr. Otabil is chancellor at Ghana's premier private university – Central University College and is a highly sought-after speaker at major conferences and mega churches around the continents of the world.
Ps André Olivier, Senior Pastor & Conference Host
With over three decades of pastoral and leadership experience, Ps André's ministry is positively focussed, motivational and challenging. He is the author of several inspiring books and travels and speaks internationally. Ps André also has a unique and dynamic television programme called Life by Design which is broadcast across various countries in Southern Africa and Europe. He brings practical teaching and simple keys to living an extraordinary life, finding a way to win and becoming a person of excellence. He shares on topics relevant to our nation and to people of all races, ages, genders and walks of life.
Ps André has been married to Ps Wilma for over forty years and they have three children and four grandchildren.